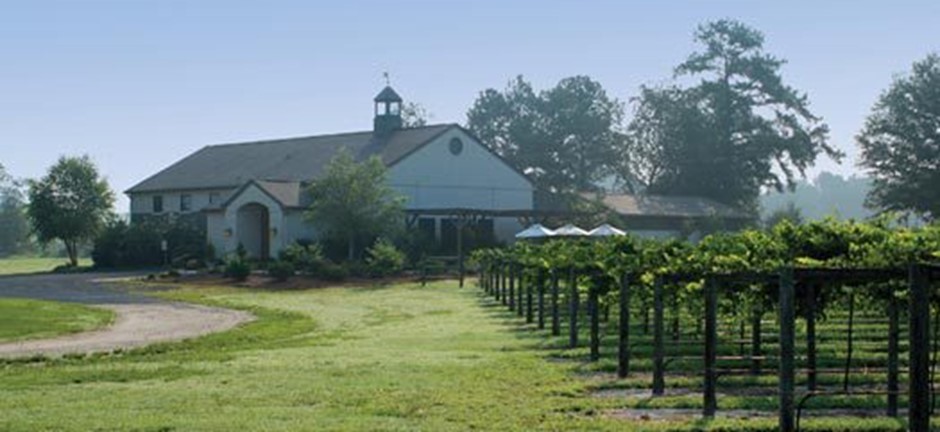 Cypress Bend Vineyards officially opened its doors in late June of 2005. After four years of cultivating thirty acres of muscadine variety grapes (better known as Scuppernong), Dan and Tina Smith have decided to share their passion for these grapes with the public.
Growing the muscadine cultivars -- Carlos, Noble, Magnolia, Doreen and Triumph -- Cypress Bend Vineyards is taking the sweet taste of the muscadine grape to new levels in their eleven muscadine table wines and one after dinner wine. Cypress Bend's wide variety of wine includes a Chardonnay and a Syrah.
The land which Cypress Bend Vineyards calls home, is steeped in rich history, passed down through the generations since 1807. The beautiful farm land, known as "Riverton," was discovered by a Scottish couple, Reverend Daniel White and his wife Catherine Campbell White. The Whites raised five children in Riverton, and to this day their descendents, including the Smith Family, continue to enjoy the farm and its native surroundings. Running along the farm, you will find the Lumber River, trimming the borders with cypress trees and sweet aromas. The Lumber River, situated in the coastal plain of North Carolina, helps nurture the land, making it the perfect grape growing soil.
Come join us on the patio of our winery, unwind and take a stroll through the vines or sip a glass of wine while enjoying some tasty treats offered in our retail shop. We invite you to taste all of our wine selections and enjoy the atmosphere of Cypress Bend Vineyards produced by the fruits of generations of labor. The winery is open Monday - Friday, Noon - 6 pm, Saturday 10-6 pm and Sunday, Noon - 6 pm.
We wanted to do something with the land a little more notable, something that would carry on the legacy of the family.

Tina Smith, Owner